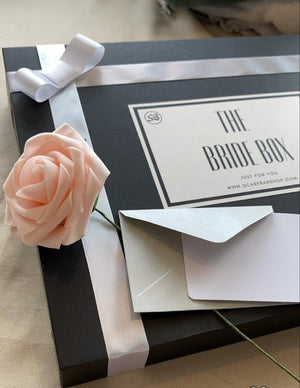 A High End Luxury Gift for the Bride
Includes everything the bride needs to cover her hair for the first time!
- 1 Non Slip Band
- Laundry Mesh Bag for Scarves
- 1 Scrunchie and 1 Ponytail 
- 1 Hair Brush
- 1 Beautiful Faux Rose
- 1 Guide on How to Tie a Head Scarf
- Card with Personalized Message
- Packaged and Presented with Elegance
Add this Gift Box to your cart along with the head scarves of your choice and we'll put it all together for you!
Note: This Bride Box DOES NOT include head scarves. The head scarves need to be added to your cart in order to be included inside the box.